According to data released by the Bureau of Labor Statistics (BLS), Florida had 9.669 million employed workers in December 2022, surpassing New York's 9.661 million employed workers. This marked the first time in the BLS's history of tracking this data that Florida had a larger workforce than New York.
A spokesman for Florida Governor Ron DeSantis attributed the state's success to its policies that encourage freedom and business growth. The state has seen a rapid increase in new business formations, with over 1.7 million created since January 2020 and over one-third of those launched in 2022 alone. This, along with an influx of new residents, has fueled Florida's economic growth and pushed its workforce past New York's.
Prior to the onset of the COVID-19 pandemic in 2020, New York had a significant lead over Florida in terms of employment, with 9.8 million jobs compared to Florida's 9.1 million jobs. During the initial economic contraction due to pandemic restrictions, the two states' workforces were roughly equal in size, but New York quickly regained its lead by the fall of 2020, with a gap of 300,000 jobs.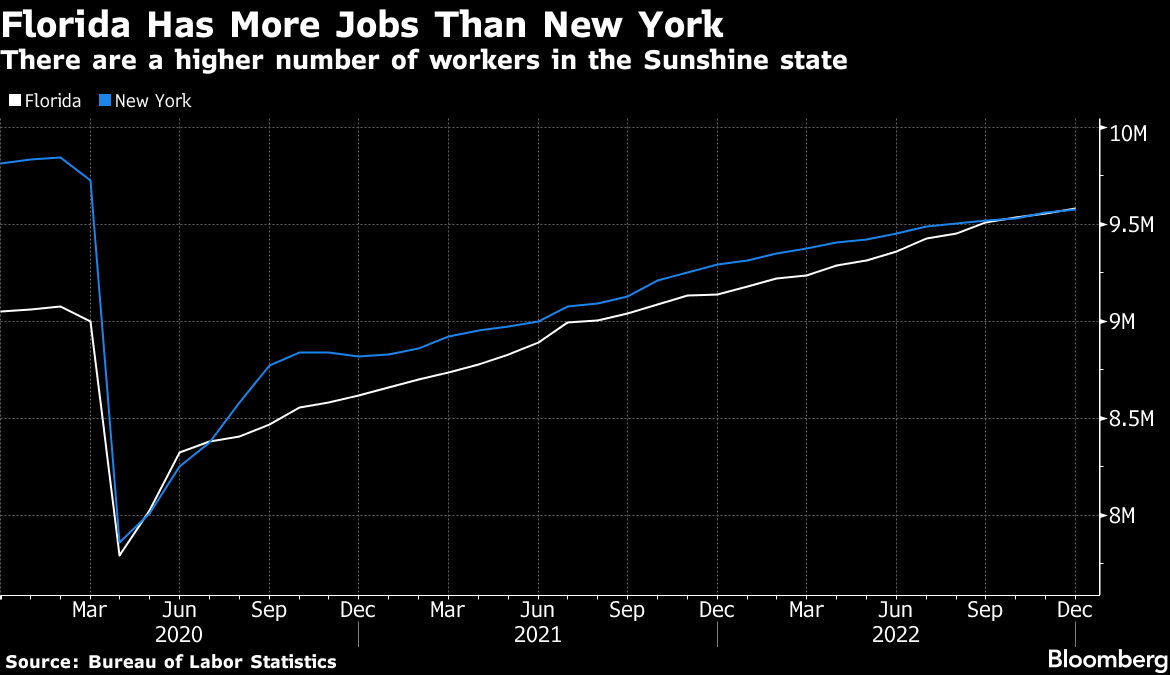 However, Florida steadily narrowed that gap over the course of 2021 and most of 2022, finally surpassing New York in December with a margin of fewer than 8,000 jobs. Last year also marked a milestone for Florida, as its labor force reached 9.2 million jobs, surpassing its pre-pandemic level. In contrast, New York's labor force was still 200,000 jobs below its pre-pandemic level at the end of the year.
Florida's population has grown rapidly in recent years, with a 1.9% increase from 2021 to 2022, bringing its population to over 22.2 million. On the other hand, New York experienced a population decrease of 0.9% in the same time period, declining to about 19.6 million residents.
Florida's policies that encourage freedom and business growth, combined with an influx of new residents, have fueled its rapid economic growth and allowed it to surpass New York in terms of employment for the first time in history. While New York's labor force is still recovering from the impacts of the COVID-19 pandemic, Florida's economy continues to thrive, driven by its supportive environment for business and residents alike.